Reptile Birthday Parties for Kids – Serving All of Costa Mesa!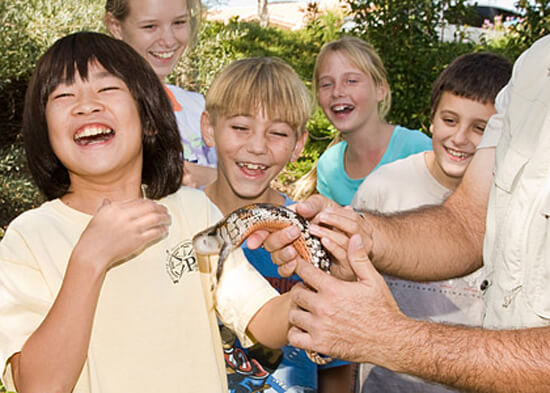 Kid's Reptile Parties specializes in bringing fun and entertainment to your child's birthday bash, school presentation or special event! If you're looking to do something unique and exciting, book your reptile party with us and you won't be disappointed. When it comes to animal entertainment for a kids birthday party or special event you can't go wrong with a reptile show! A few of our jumbo animals include Fred the 3 ft. Argentinian Lizard, Carlos the large African Bullfrog, Wally the Sulcata Tortoise, and our SHOW STOPPING 10 ft. Python, Fluffy! Throughout the reptile show, your reptile guide will include fun facts about each animal, like where they are from and what they eat – and the kids can ask anything they'd like to know as well. Our reptile parties are very hands-on, with each child getting the chance to touch and hold the animals, but as the "zoo keeper for the day," the birthday child will be highlighted throughout the show and the first to hold and touch each animal.
Our reptile parties can be performed at your home, clubhouse, or at a park – all party packages can be performed outdoors or indoors based on the weather and your preference. Book a reptile party with us today, and make your upcoming party or event absolutely unforgettable!
Call 1-800-697-0133 or email KidsReptileParties@yahoo.com to book your reptile party today!